MORE FROM THIS BLOGGER
From Live Better America
Tara Gidus | Become a fan
10 Easy Ways To Be More Spontaneous In The Kitchen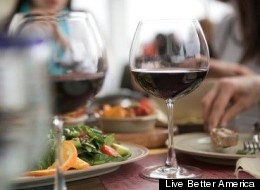 I like to look at meal planning as a "road map" to healthy eating. But to me, creativity provides the pleasure in cooking. If each evening's dinner is pre-planned down to the ounce, you're stuck in a bind when your family doesn't feel like having what's on the menu, or when you're simply in the mood to have a little impromptu fun with your food.
How do we reconcile a nutritious weekly menu with the freedom to be spontaneous in the kitchen?
Here are my favorite tips for making quick, satisfyingly fresh meals -- without too much forethought.
Go herbal. Keeping fresh herbs on hand or in your garden is a fantastic way to freshen up all dishes. Basil is by far my favorite topping for salads, pasta, eggs, and the list goes on...
Be casual in your meal prep by cooking one-pot meals. Pack all vegetables, grains, and protein in one dish with slow cooker, casserole, and soup recipes. Less mess = less fuss.
Keep your pantry and freezer stocked with the basic building blocks for healthy dishes: salad greens, plain, fat-free yogurt, whole grain pasta and reduced-sodium broths and soups are great staples to have handy at all times. (See more pantry essentials.)
Add lemon juice, balsamic vinegar, or lime juice to your meals to brighten up food and add freshness. My favorite: squeezed lime wedge over plain nonfat Greek yogurt and fresh berries!
Build your repertoire of healthy recipes by perusing cookbooks, magazines, websites, and cooking shows for inspiration. Check out the Live Better America Healthified collection to get started.
Sometimes I create a menu plan for "main dish" items, but allow myself to be spontaneous with the sides. Maintain a list of potential sides and then choose what you're in the mood for on the spot.
Develop a list of your favorite casual meals that can be ready in 10 minutes or less, and stock your pantry with the ingredients. Some of my standbys are grilled panini, pastas, green salads with shredded chicken, and leftover soups freshened up with plain nonfat Greek yogurt, chives, and parsley.
Pick up produce at the farmers market or through a local CSA. Using seasonal and local items livens up the meal experience.
Planning your meals in advance can take the stress out of grocery shopping, but you can still allow yourself some flexibility with the nights you prepare them. Adjust and re-adjust your schedule depending on your mood and energy level.
Go meatless and limit your prep work and cleanup time. Draw inspiration from Live Better America's vegetarian dinner recipes collection.
How do you stay spontaneous in the kitchen? Jump in the conversation by sharing your famous tips and tricks with us in the comments!