Happy National Cereal Day! Here Are 24 Recipes To Celebrate With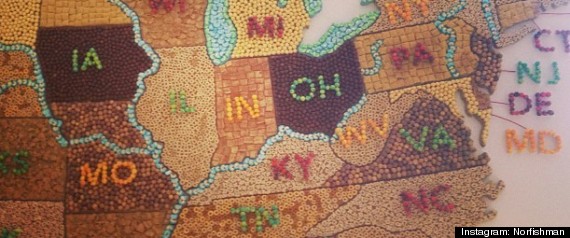 March 7th is National Cereal Day, and we're here to wish you a very happy one with 24 amazing recipes showcasing all that cereal can do. From waffles, to cheesecakes, to truffles, to the classic cereal bar, we think you'll be surprised how versatile this tried-and-true ingredient can be.
So check out the goodies and then let us know in the comments: do you use cereal as an ingredient when you cook? Or do you prefer to eat it the traditional way, with a bowl of milk and a spoon?
Loading Slideshow
Pear-Ginger Scones

Coffee shop-sweet scones strut fresh chunks of pear, a pinch of ginger and a punch from high-fiber cereal. <a href="http://www.livebetteramerica.com/recipes/pear-ginger-scones/183ca291-fa97-4b76-b828-bf7a6358cb57/?nicam5=PARTNERSHIPS&nichn5=AOL&niseg5=TDCORE_LBA&esrc=16549">Get the recipe</a>

Espresso Cereal Bars

Calories 190 Fat 6g Saturated Fat 1g Sodium 180mg <a href="http://www.livebetteramerica.com/recipes/espresso-cereal-bars/f31cd9be-e795-446b-97b3-a76f09d73613/?nicam5=PARTNERSHIPS&nichn5=AOL&niseg5=TDCORE_LBA&esrc=16549">Get the recipe</a>

Healthified Dark Chocolate Truffles

This simple, yet truly indulgent treat is a snap to make. The dark chocolate and cereal also makes it a wonderfully wholesome snack. <a href="http://www.livebetteramerica.com/recipes/healthified-dark-chocolate-truffles/8439f27a-f772-44c3-a7ad-67f0464baf19/?nicam5=PARTNERSHIPS&nichn5=AOL&niseg5=TDCORE_LBA&esrc=16549">Get the recipe</a>

Whole-Grain Buttermilk Waffles

Add Fiber One original bran cereal to the batter and create delicious fiber-rich whole-grain waffles. <a href="http://www.livebetteramerica.com/recipes/whole-grain-buttermilk-waffles/5c4e4f26-2f91-42e5-a6f3-9f0d55469064/?nicam5=PARTNERSHIPS&nichn5=AOL&niseg5=TDCORE_LBA&esrc=16549">Get the recipe</a>

Blueberry Cheesecake Squares

Mmm...A cereal crust, cream cheese and yogurt layer combine to create a luscious cheesecake-like texture, topped with a berry-fresh topping. <a href="http://www.livebetteramerica.com/recipes/blueberry-cheesecake-squares/e27dca70-3556-4e7d-8446-6634a730ee8b/?nicam5=PARTNERSHIPS&nichn5=AOL&niseg5=TDCORE_LBA&esrc=16549">Get the recipe</a>

Blueberry Breakfast Cereal Bread

A yummy bread made with berries and Whole Grain Total cereal. <a href="http://www.livebetteramerica.com/recipes/blueberry-breakfast-cereal-bread/8066d8aa-4e00-4106-9413-ae903950e9fc/?nicam5=PARTNERSHIPS&nichn5=AOL&niseg5=TDCORE_LBA&esrc=16549">Get the recipe</a>

Cereal Apple-Cran Muffins

Prep Time 10 min Total Time 35 min Servings 12 <a href="http://www.livebetteramerica.com/recipes/cereal-apple-cran-muffins/22aad57f-2cba-458d-a145-ae844884a3a8/?nicam5=PARTNERSHIPS&nichn5=AOL&niseg5=TDCORE_LBA&esrc=16549">Get the recipe</a>

Ambrosia Breakfast Parfaits

Calories 310 Fat 4g Saturated Fat 2g Sodium 200mg <a href="http://www.livebetteramerica.com/recipes/ambrosia-breakfast-parfaits/e9abac0a-2211-464a-b9e3-1351fae1e956/?nicam5=PARTNERSHIPS&nichn5=AOL&niseg5=TDCORE_LBA&esrc=16549">Get the recipe</a>

Fresh Apple Cereal Bars

Prep Time 25 min Total Time 1 hr 55 min Servings 36 <a href="http://www.livebetteramerica.com/recipes/fresh-apple-cereal-bars/83d6fcd4-2589-4a5a-b482-630334e562a1/?nicam5=PARTNERSHIPS&nichn5=AOL&niseg5=TDCORE_LBA&esrc=16549">Get the recipe</a>

Gluten Free Crunchy Fudge Cookies

These fudgy gluten-free cookies with a cinnamon twist are made with gluten-free brownie mix and cereal. A bonus: they freeze really well, so are great to keep on hand. <a href="http://www.livebetteramerica.com/recipes/gluten-free-crunchy-fudge-cookies/dca2ee8e-6a60-48a7-ac1d-fcda0e3b4c79/?nicam5=PARTNERSHIPS&nichn5=AOL&niseg5=TDCORE_LBA&esrc=16549">Get the recipe</a>

Chocolate Chex Marshmallow Clusters

Four ingredients — including Chocolate Chex cereal — make an easy-to-make sweet and cruncy snack that's ready in less than an hour. <a href="http://www.livebetteramerica.com/recipes/chocolate-chex-marshmallow-clusters/bf07f8cf-7cfc-423c-ae6d-20bd89a3d301/?nicam5=PARTNERSHIPS&nichn5=AOL&niseg5=TDCORE_LBA&esrc=16549">Get the recipe</a>

Applesauce Muffins

Applesauce, cinnamon and brown sugar make these yummy muffins flavorful, moist and low in fat. Made with Cheerios cereal. <a href="http://www.livebetteramerica.com/recipes/applesauce-muffins/87b300a2-4939-4aaf-b2f9-a4a5b613b4d9/?nicam5=PARTNERSHIPS&nichn5=AOL&niseg5=TDCORE_LBA&esrc=16549">Get the recipe</a>

Blueberry-Rhubarb Crisp

Calories 200 Fat 3g Saturated Fat 0g Sodium 80mg <a href="http://www.livebetteramerica.com/recipes/blueberry-rhubarb-crisp/cd22bd17-2710-4b72-bae2-4da87dfb08df/?nicam5=PARTNERSHIPS&nichn5=AOL&niseg5=TDCORE_LBA&esrc=16549">Get the recipe</a>

Dulce de Leche No-Bake Snack Bars

These no-bake bars are made using Dulce de Leche Cheerios cereal and are just 160 calories per serving. <a href="http://www.livebetteramerica.com/recipes/dulce-de-leche-no-bake-snack-bars/90e8e7a3-5e39-411c-96e7-b3e3d49daf53/?nicam5=PARTNERSHIPS&nichn5=AOL&niseg5=TDCORE_LBA&esrc=16549">Get the recipe</a>

Raspberry-Chocolate Muffins

These terrific chocolate and raspberries muffins are made with Fiber One cereal. <a href="http://www.livebetteramerica.com/recipes/raspberry-chocolate-muffins/da10bd3a-b035-46de-b718-49da3f641602/?nicam5=PARTNERSHIPS&nichn5=AOL&niseg5=TDCORE_LBA&esrc=16549">Get the recipe</a>

Gingered Cereal Snack Mix

This tropical munchie mix is made with whole-grain cereal, fruit mix, coconut, nuts and ginger. <a href="http://www.livebetteramerica.com/recipes/gingered-cereal-snack-mix/ab920bc4-62c0-4bb6-875d-99c8f0908ae3/?nicam5=PARTNERSHIPS&nichn5=AOL&niseg5=TDCORE_LBA&esrc=16549">Get the recipe</a>

Blueberry-Bran Pancakes

What's more inviting than hot-off-the-grill pancakes? These have extra goodies of buttermilk, bran and berries! <a href="http://www.livebetteramerica.com/recipes/blueberry-bran-pancakes/709425bc-3c9a-42de-9046-f2b4bcc329d9/?nicam5=PARTNERSHIPS&nichn5=AOL&niseg5=TDCORE_LBA&esrc=16549">Get the recipe</a>

Outrageous Strawberry Pie

Three different strawberry ingredients pack sensational flavor into a refreshingly delicious pie with a cereal-pretzel crust. <a href="http://www.livebetteramerica.com/recipes/outrageous-strawberry-pie/357bc449-f8fb-451a-a82a-65ea363837f9/?nicam5=PARTNERSHIPS&nichn5=AOL&niseg5=TDCORE_LBA&esrc=16549">Get the recipe</a>

Fruit and Nut Cereal Bars

Calories 150 Fat 4 1/2g Saturated Fat 1/2g Sodium 75mg <a href="http://www.livebetteramerica.com/recipes/fruit-and-nut-cereal-bars/ec7d0f27-ac18-452f-a020-d71db6888487/?nicam5=PARTNERSHIPS&nichn5=AOL&niseg5=TDCORE_LBA&esrc=16549">Get the recipe</a>

Cheerios Banana-Raisin Muffins

Prep Time 10 min Total Time 35 min Servings 12 <a href="http://www.livebetteramerica.com/recipes/cheerios-banana-raisin-muffins/50f73f8c-bf17-4eda-ad4b-83604be3cae5/?nicam5=PARTNERSHIPS&nichn5=AOL&niseg5=TDCORE_LBA&esrc=16549">Get the recipe</a>

Chocolate-Banana Bread

This banana bread has a whole-grain Cheerios cereal boost and a chocolate twist. <a href="http://www.livebetteramerica.com/recipes/chocolate-banana-bread/f2e5487e-ed7b-4143-b787-7c604f17c77c/?nicam5=PARTNERSHIPS&nichn5=AOL&niseg5=TDCORE_LBA&esrc=16549">Get the recipe</a>

Apple-Honey Cereal Bars

Calories 160 Fat 5g Saturated Fat 1g Sodium 110mg <a href="http://www.livebetteramerica.com/recipes/apple-honey-cereal-bars/0ae83823-4b33-4f2e-8fd7-766c47eb1cbc/?nicam5=PARTNERSHIPS&nichn5=AOL&niseg5=TDCORE_LBA&esrc=16549">Get the recipe</a>

Fiber One Crunchy Fudge Cookies

A great-tasting fudgy cookie made with brownie mix and high-fiber cereal. <a href="http://www.livebetteramerica.com/recipes/fiber-one-crunchy-fudge-cookies/f47ea9ba-2b40-4d4f-9196-042a0235dfe1/?nicam5=PARTNERSHIPS&nichn5=AOL&niseg5=TDCORE_LBA&esrc=16549">Get the recipe</a>

Spiced Cereal Trail Mix

Prep Time 15 min Total Time 60 min Servings 8 <a href="http://www.livebetteramerica.com/recipes/spiced-cereal-trail-mix/e29e2bd4-3cee-4b17-b9df-8ddb19001d52/?nicam5=PARTNERSHIPS&nichn5=AOL&niseg5=TDCORE_LBA&esrc=16549">Get the recipe</a>