Friday Fish Fry Recipes: 9 Better Spins On The End-Of-The-Week Tradition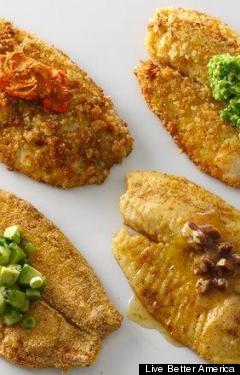 For many, the end of the week means one thing: Friday fish fry. Read on to learn about how the Fish Fry tradition got started and how to continue it with less fat and more flavor.
Friday Fish Fry: The Origins
The Friday fish fry is a deeply ingrained ritual in many parts of the country, especially the Upper Midwest, where fresh, inexpensive fish is readily available. Like many culinary traditions, fish fries originated with one ethnic and religious group — the German Catholics, in this case, who were seeking a non-meat alternative for Lenten Fridays — and then spread in popularity. Americans, after all, know a good idea when we taste one. Fried fish on a Friday night with a beer and a gaggle of friends? What's not to like?
The tradition goes back to the 1920s, when Prohibition sent bar and tavern owners scrambling for alternative ways to make a living. Many began offering fish fries as a way to get people in the door. Some speakeasies offered fish dinners on the up-and-up, with beer and spirits under the table.
Over the years, fried fish became synonymous with Friday night because it was an easy and inexpensive way to feed a crowd. Gathering with family and friends at a local hall, restaurant, church or supper club to share a meal at workweek's end proved a compelling way to unwind and kick off the weekend. What was born of Lenten abstinence became a ritual of celebration and camaraderie.
How To Throw A Better-For-You Fish Fry
If you don't live in a part of the country where creaky signs point you to the nearest Friday fish fry, you can stage your own at home. Even those who have the option of following the signs might decide to do their own fish fry in a way that's better than the heavily battered, deep-fried legion hall rendition. Fish, after all, is on many people's dietary "do" lists.
The American Heart Association recommends eating fish at least twice a week. It's a good source of protein and packed with vitamins and minerals, after all (some varieties are also low in saturated fat). The Omega-3 fatty acids found in fish may help improve heart health, by decreasing triglyceride levels and slowing cholesterol buildup in arteries. Even though the whitefish (cod, flounder, perch and sole) traditionally used in fish fries is lower in Omega-3 fatty acids than oilier salmon and sardines, it still contains more Omega-3s than chicken or other meat.
Traditionally accompanying the fish at a fry is a gut-busting lineup consisting of hushpuppies, corn fritters, fries, coleslaw or pancakes and plenty of beer. With a few tweaks and some clever side-dish substitutions, you can easily coax the menu into being considerably better for you.
Instead of calorie-laden beer, serve a refreshing drink with fewer calories (think iced tea or fruity sparkling water). Forgo deep-frying, deploying instead alternative preparations that highlight the traditional whitefish's delicate flavor, keeping it lower in fat by incorporating fresh herbs, bright citrus and crunchy breadcrumbs. These recipes from the Live Better America Kitchens will get you started.
Loading Slideshow
Panfried Fish

Calories 200 Fat 7g Saturated Fat 1 1/2g Sodium 230mg <a href="http://www.livebetteramerica.com/recipes/panfried-fish/a289f99d-1e2b-4594-a2d9-fa9e629768ff?nicam5=PARTNERSHIPS&nichn5=AOL&niseg5=TDCORE_LBA&esrc=16549">Get the recipe</a>

Crispy Oven-Baked Fish

Calories 130 Fat 2 1/2g Saturated Fat 1/2g Sodium 600mg <a href="http://www.livebetteramerica.com/recipes/crispy-oven-baked-fish/30b92f73-8b6c-4f02-8f4a-9e2a35f2699d?nicam5=PARTNERSHIPS&nichn5=AOL&niseg5=TDCORE_LBA&esrc=16549">Get the recipe</a>

Skillet Fish with Quick Corn Relish

Calories 180 Fat 2g Saturated Fat 0g Sodium 350mg <a href="http://www.livebetteramerica.com/recipes/skillet-fish-with-quick-corn-relish/095916ae-1ccd-4d24-bfc7-2fc3c4259014?nicam5=PARTNERSHIPS&nichn5=AOL&niseg5=TDCORE_LBA&esrc=16549">Get the recipe</a>

Fish Sandwiches with Lemon-Basil Mayo Sauce

Calories 310 Fat 6g Saturated Fat 1g Sodium 710mg <a href="http://www.livebetteramerica.com/recipes/fish-sandwiches-with-lemon-basil-mayo-sauce/e2661aa1-165f-40b8-baa1-4c32a298ff13?nicam5=PARTNERSHIPS&nichn5=AOL&niseg5=TDCORE_LBA&esrc=16549">Get the recipe</a>

Garlic Oven Fries

Calories 130 Fat 2 1/2g Saturated Fat 0g Sodium 250mg <a href="http://www.livebetteramerica.com/recipes/garlic-oven-fries/87ea2ebf-e159-466f-8f82-716321fb7f50?nicam5=PARTNERSHIPS&nichn5=AOL&niseg5=TDCORE_LBA&esrc=16549">Get the recipe</a>

Healthified Hot German Potato Salad

Calories Reduced By 50 Fat Reduced By 6g Sodium Reduced By 350mg <a href="http://www.livebetteramerica.com/recipes/healthified-hot-german-potato-salad/76323e8c-f4eb-4a2f-8ce4-95586590c26e?nicam5=PARTNERSHIPS&nichn5=AOL&niseg5=TDCORE_LBA&esrc=16549">Get the recipe</a>

Asian Coleslaw

Calories 70 Fat 2g Saturated Fat 0g Sodium 310mg <a href="http://www.livebetteramerica.com/recipes/asian-coleslaw/c82f6b44-d530-40e6-b0d1-86383b30f496?nicam5=PARTNERSHIPS&nichn5=AOL&niseg5=TDCORE_LBA&esrc=16549">Get the recipe</a>

Blue Cornmeal Muffins

Calories 140 Fat 4 1/2g Saturated Fat 1/2g Sodium 330mg <a href="http://www.livebetteramerica.com/recipes/blue-cornmeal-muffins/07d21370-928a-4bc3-8e13-890d427cc64b?nicam5=PARTNERSHIPS&nichn5=AOL&niseg5=TDCORE_LBA&esrc=16549">Get the recipe</a>

Healthified Herb-Bran Muffins

Calories Reduced By 30 Fat Reduced By 2g Saturated Fat Reduced By 1g <a href="http://www.livebetteramerica.com/recipes/healthified-herb-bran-muffins/f20834f9-bbb7-43cb-b872-0b9debe96823?nicam5=PARTNERSHIPS&nichn5=AOL&niseg5=TDCORE_LBA&esrc=16549">Get the recipe</a>