Here's Why Your Dog Is A Better Exercise Buddy Than Your Husband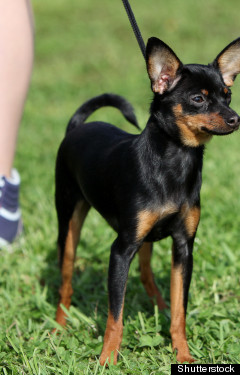 You know what they say about man's best friend, but could man's best exercise buddy be a canine, too? The science is in dog-lovers' favor.
"Dogs provide three unique supports that 'people buddies' just don't," says Robert Kushner, MD, a professor of medicine at Northwestern University Feinberg School of Medicine, academic medical director of the Wellness Institute at Northwestern Memorial Hospital.
Kushner is the lead author of a recent study on obesity that followed overweight people who walked their dogs for 30 minutes daily. The findings show the power of the pooch to be even greater than you might expect:
1. Initiator extraordinaire. Your dog wants to walk, probably more than you do. "You look at those dancing eyes, the furry feet tap dancing, the tail helicopter rotor engaged, and you don't want to disappoint him by not going for a walk. So you go!" says Marty Becker, DV, coauthor with Dr. Kushner of Fitness Unleashed!: A Dog and Owner's Guide to Losing Weight and Gaining Health Together (Three Rivers Press, 2006).
2. Pure joy. People reported a unique sense of joy when walking with their dog that went far and above what they'd feel when walking with people.
3. Parental pride. "People love it when others stop and ask questions about and admire their dog," says Dr. Kushner. There's more to being a parent than admiring glances, though; wanting a healthy, fit pooch was a strong motivator for many walkers.
All dogs can benefit from exercise; in fact, 50 percent of America's pets are overweight. And there may be another hidden benefit, says Dr. Becker: "Besides excess pounds, behavioral problems may melt away with exercise as well."
Of course, every dog is different, and knowing what you can expect from your dog depends on both breed and temperament. "There are 'lap dogs,' like retrievers, Dalmatians, and Afghan hounds, that are great for running long distances — laps — around the local high school track. Then there are other 'lapdogs,' like Maltese, teacup poodles, and shih tzus, that are better at shorter walks and then lying in laps," says Dr. Becker. "If you're lean and mean and training for a triathlon, you wouldn't want to burn up the asphalt with a dachshund, whose legs would be a blur trying to keep up," Becker says.

But, Dr. Kushner warns, "don't be discouraged if it doesn't happen right away." You might have a reluctant runner on your hands. "While some dogs will happily wait by the door for a walk, others you may have to almost drag along at first until you develop a new daily habit."
We've compiled six tips for starting a safe, new exercise habit with your pet. Check 'em out and then upload your own doggy exercise photos in the slideshow below!
Do you bring your dog along on your daily run? Share your pet exercise stories in the comments!
Loading Slideshow
Check first.

Just like you'd talk with your doctor before starting a new workout, check with your vet. If your pet is older or has been sedentary, you want to rule out any condition that might make exercise painful or dangerous for him.

Start slowly.

"Start by walking your dog two blocks per 10 pounds of body weight per day," says Dr. Becker, "then increase your distance by 5 to 10% each week."

Drink up.

Bring water – for yourself and your panting partner.

Watch his signs.

"If your dog ever lags behind on a walk, stop and let him rest," says Dr. Becker. "If he lies down, seeks shade, or pants excessively, he could be in danger of heat exhaustion and you need to stop!" Give your dog some rest and water to recuperate.

Pat the pavement.

Before you walk, touch the surface you're going to walk on. "If it's too hot for your hand, it's too hot for your dog's foot pads," says Dr. Becker. Opt for a grassy park or shady path. It's also a good idea to time walks for mornings or evenings, when the temperature and humidity are lower.

Be consistent.

Walking daily is the best way to turn even a reluctant dog partner into an enthusiastic one.