Calorie-Conscious Drink Spiking: The Healthy Way To Spike Eggnog, Cider, Hot Chocolate And More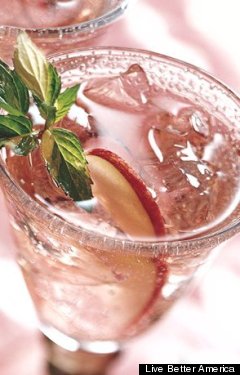 'Tis the season of toasts and stress and decadent indulgence, all of which encourage spiking winter drinks with libations that are more naughty than nice. It's easier the rest of the year to go the calorie-conscious route, but a white-wine spritzer, for all its crisp splendor, just doesn't have the same holiday punch. We want beverages that stir images of ski chalets, roaring fires and Christmas carols. We don't, however, want them to add an inch to our waistline by January 2.
Take eggnog. A mere cup can contain as many as 250 calories. Spike it with a shot of whiskey, brandy or rum, and the calorie count shoots to 350. (For perspective, it takes 25 minutes of fast rope jumping to burn 350 calories!)
But fear not; a better lifestyle and a hearty sampling of yuletide cheer aren't mutually exclusive. Here's what you need to know to add spirit and spirits to your favorite winter drinks without topping 250 calories per serving.

Hot cocoa
You've loved it since you were a kid. Now, however many holiday seasons later, use this hot chocolate recipe as a better-for-you base for three very adult versions:
Make it minty with by adding ½ shot (or ¾ ounce) of peppermint schnapps. Use a candy cane as a stir stick. (200 calories, not including the candy cane)
Give it a fruity flavor by blending in ½ shot of any berry-based liqueur the likes of raspberry, strawberry or blueberry. Whisk until foamy. (210 calories)
Add some spice with a Mexican rendition that includes ½ shot of coffee liqueur, 1/8 teaspoon of ground cinnamon, 1/8 teaspoon of vanilla extract and a sprinkle of chili powder. Whip into a froth. (200 calories)
Coffee
One of the wonderful things about coffee-based drinks is that the coffee itself is virtually calorie-free. Start with the best full-bodied roast you can afford.
For classic Irish coffee, blend a cup of joe with 2 teaspoons of sugar and a shot (1½ ounces) of Irish whiskey. Top with ¼ cup of real whipped cream. (200 calories)
Salute all things Canadian with a coffee that gets its sweetness from a tablespoon of real maple syrup and its sass from a shot of rye whiskey. (150 calories)
Get the taste of both hot cocoa and coffee — plus a hint of hazelnut — by including ½ shot (¾ ounce) of chocolate liqueur and ½ shot of hazelnut liqueur. (180 calories)
Hot apple cider
So simple and wholesome is cider, that you can almost convince yourself it's a health elixir. Use natural, unsweetened cider as the perfect base for these warming creations.
Cider and a shot of spiced rum equal perfection in just two ingredients. (200 calories)
Cider and a shot of schnapps begs only the question, Which flavor schnapps? Apple? Peach? Cinnamon? (240 calories)
Cider, plus ½ shot each of vodka and vanilla liqueur plus a sprinkle of cinnamon gets you an Apple Pie Martini. (240 calories)
Eggnog
Authentic eggnog doesn't conform to Live Better America's guidelines for calorie count or fat content. You can, however, enjoy some great fake nogs that are dairy-free, creamy and tasty — with or without a hit of hooch.
Combine 1 cup of a hot chai drink (made with soy milk) with a shot of spiced rum and 2 tablespoons of pasteurized egg substitute. Sprinkle with freshly ground nutmeg. (250 calories)
Blend a hot cup of almond or hazelnut milk with ½ ripe banana, 2 tablespoons of pasteurized egg substitute, a shot of vanilla rum and a pinch of ground cinnamon. (210 calories)
Whisk into a cup of warm coconut milk (not the kind you buy in cans for cooking, but that's found in the dairy case) less than ¼ teaspoon each of vanilla extract, ground cinnamon and ground nutmeg; 1 teaspoon of honey; and a shot of cognac. (220 calories)
Do you have a favorite hot beverage you like to spike? Do share your secret recipe.
Loading Slideshow
Noel Spritzer

<a href="http://www.livebetteramerica.com/recipes/noel-spritzer/4f0ac0a5-9560-4865-a032-91d24ac0d5c0?nicam5=PARTNERSHIPS&nichn5=AOL&niseg5=TDCORE_LBA&esrc=16549">Get the Noel Spritzer recipe</a>

Slow Cooker Spiced Cranberry-Apple Cider

<a href="http://www.livebetteramerica.com/recipes/slow-cooker-spiced-cranberry-apple-cider/6e70b8ab-480a-4686-9cfd-3353c5e0bba0?nicam5=PARTNERSHIPS&nichn5=AOL&niseg5=TDCORE_LBA&esrc=16549">Get the Slow Cooker Spiced Cranberry-Apple Cider recipe</a>

Pomegranate Cocktails

<a href="http://www.livebetteramerica.com/recipes/pomegranate-cocktails/15923b9f-c06a-4621-a516-046e192a9a29?nicam5=PARTNERSHIPS&nichn5=AOL&niseg5=TDCORE_LBA&esrc=16549">Get the Pomegranate Cocktails recipe</a>

Healthified Decadent Hot Chocolate

<a href="http://www.livebetteramerica.com/recipes/healthified-decadent-hot-chocolate/748db036-9761-4d1e-a9bb-86d99386cfb4?nicam5=PARTNERSHIPS&nichn5=AOL&niseg5=TDCORE_LBA&esrc=16549">Get the Healthified Decadent Hot Chocolate recipe</a>

Peachy Spiced Cider

<a href="http://www.livebetteramerica.com/recipes/peachy-spiced-cider/78051f94-bedf-484a-b5f7-88b3ebbb7f6b?nicam5=PARTNERSHIPS&nichn5=AOL&niseg5=TDCORE_LBA&esrc=16549">Get the Peachy Spiced Cider recipe</a>

Sparkling Citrus Punch

<a href="http://www.livebetteramerica.com/recipes/sparkling-citrus-punch/8f6fd74f-60bb-4b1e-8a3d-e83e1840da67?nicam5=PARTNERSHIPS&nichn5=AOL&niseg5=TDCORE_LBA&esrc=16549">Get the Sparkling Citrus Punch recipe</a>

Raspberry-Ginger Cider

<a href="http://www.livebetteramerica.com/recipes/raspberry-ginger-cider/fd5cca3e-1ded-4736-8402-1fec4b278efc?nicam5=PARTNERSHIPS&nichn5=AOL&niseg5=TDCORE_LBA&esrc=16549">Get the Raspberry-Ginger Cider recipe</a>

Chai Tea

<a href="http://www.livebetteramerica.com/recipes/chai-tea/4337d95d-c522-4206-bd33-0642a95019e7?nicam5=PARTNERSHIPS&nichn5=AOL&niseg5=TDCORE_LBA&esrc=16549">Get the Chai Tea recipe</a>

Warm Cinnamon-Orange Cider

<a href="http://www.livebetteramerica.com/recipes/warm-cinnamon-orange-cider/6f56171c-e224-448e-9c47-2471448dd29d?nicam5=PARTNERSHIPS&nichn5=AOL&niseg5=TDCORE_LBA&esrc=16549">Get the Warm Cinnamon-Orange Cider recipe</a>

Pumpkin Spice Hot Toddy

<a href="http://www.livebetteramerica.com/recipes/pumpkin-spice-hot-toddy/23d95cd5-11a0-4ff3-bea5-39f4e7049003?nicam5=PARTNERSHIPS&nichn5=AOL&niseg5=TDCORE_LBA&esrc=16549">Get the Pumpkin Spice Hot Toddy recipe</a>

Cranberry-Apple Spritzer

<a href="http://www.livebetteramerica.com/recipes/cranberry-apple-spritzer/68e934e4-0b02-4b17-bcf3-049d52465cd5?nicam5=PARTNERSHIPS&nichn5=AOL&niseg5=TDCORE_LBA&esrc=16549">Get the Cranberry-Apple Spritzer recipe</a>