Charitable Giving: A Do-Gooder's Guide To Holiday Altruism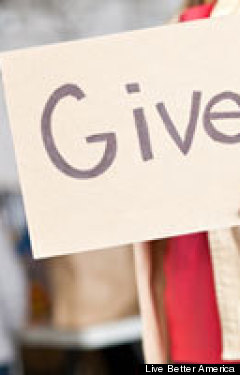 If Christmas makes you feel altruistically inadequate, you're not alone. Contradictory messages of consumption and compassion, coupled with social and family commitments, often result in obligation overload. Guilt can cause you to overcompensate for philanthropic shortcomings — imprudently writing checks in bulk, throwing money at every bell-ringer you pass or signing every volunteer sheet that comes your way — or it can just overwhelm you to the point of inaction.
Deep down we all know that giving is a given, and we genuinely want to be generous. All things considered, we do deserve some credit: Americans gave more than $298.42 billion to charitable causes in 2011 (that works out to about $2,500 per household). Upwards of 60 million citizens volunteered each year between 2007 and 2011, with pre-retirees (45- to 54-year-olds) making up 30.6 percent of volunteers. Not too bad for an era with less than ideal economic conditions.
Thoughtful outreach — the kind that deeply and truly supports your intentions — means weighing the benefits, both to you and your chosen charity, of donating time versus money. Consult this guide for a crash course on the nuances of each; once you've decided how you want to give, your state's Attorney General's office is a great resource to find reputable nonprofits.
Giving Time
What's in it for the charity: It takes resources and time to recruit and manage volunteers, yet they can prove to be a lucrative investment: According to a 2008 study conducted by Stanford University's Center for Social Innovation, those who are first asked by a charity to donate time (as opposed to being asked first for money) are twice as likely to give money to that charity. As the researchers explain, time consumption is associated with emotional experiences, thus the thought of donating time reminds people of the happiness achieved through helping others. (For what it's worth, studies have also concluded that those who volunteer end up donating 10 times more money than those who do not give their time.) Small or niche organizations increasingly are turning to volunteers with highly specialized skills (for instance, teachers, grant-writers or medical professionals) to keep charities' missions and budgets afloat. See the Corporation for National and Community Service's handy guide for more details on skills-based volunteerism.
What's in it for you: Not only is volunteering a way to match a passion or hobby with a charity that can benefit, you'll benefit from the experience by learning new skills, refining existing ones, and building relationships and community spirit. (A little cushion in the karmic piggy bank never hurts, either.) Even if you choose a behind-the-scenes role, you'll have a front-row seat to your work's positive impact, and chances are you'll become even more attached to the cause.
If a tax benefit is an important part of your giving strategy, know that volunteering's advantages are largely intangible come tax time. The IRS doesn't allow volunteers to deduct the value of their time, but transportation and mandatory uniform costs may be eligible. Consult a certified tax professional or the IRS Charitable Contributions guide for more details.
Giving Money
What's in it for the charity: When you write a check, you entrust and empower your charity's in-the-know pros to use the money in way they deem best for the organization. Giving money bypasses the resources needed to manage volunteers, a task for which many short-staffed nonprofits are not equipped.
What's in it for you: Making a financial contribution is now easier than ever, as many organizations offer online or text message-based donation programs. And, if more than one charity is close to your heart, you can make multiple smaller contributions. Those who can't volunteer, or are unable to find a volunteer position that fits their skills and interests, can still feel good about giving.
A major benefit to financial do-gooders is the tax write-off. To find out if your contribution qualifies, consult a certified tax professional. The IRS Charitable Contributions guide includes an at-a-glance rundown of which contributions are deductible, as well as rules for deducting donations of clothing, household goods and vehicles.
Giving money sometimes can seem like the easy way out, but before you get a guilt complex, consider that giving in any capacity is still giving. And rest assured, you're not alone: As of 2008, 53 percent of pre-retirees (ages 55 to 64) favored giving money over time.
Loading Slideshow
Serve Buffet-Style

Setting the table the day before takes time and energy, not to mention that it renders unusable a perfectly good surface that you can otherwise use to chop vegetables, lay out finished dishes to cool and do other necessary preparations. Instead, set up a buffet table and let people serve and seat themselves when they arrive.

Clean Out Your Fridge In Advance

Before you even start shopping for the party, take some time to make space in your fridge for the ingredients you'll be buying, as well as for the new batch of leftovers you're probably going to have on your hands once all is said and done. You'll avoid that moment of panic when you've got a tupperware container full of perfectly good lasagna and nowhere to put it but the back porch.

Don't Try To Make Everything From Scratch

Stick with a few tried-and-true recipes you're already comfortable with, and supplement them with, say, shrimp cocktail from the local grocery store, canned bruschetta, a batch of frozen biscuits and a great pie from the local bakery.

Use Disposable Dishware

If you're serving six or more people, disposable dishware is a perfectly reasonable way to save yourself some clean-up time. If you're concerned about seeming unsophisticated, don't. There are plenty of options — from plastic that looks like real china to specialty designs to bamboo — that are better-looking than the average paper plate. For the eco-conscious cook, the jury's still out on whether going disposable for the Big Meal is truly worse for the environment than the water and energy used in dishwashing, so using recyclable materials is a good bet.

Pick Easy-To-Scale Dishes You Already Know How To Make

When it comes to scaling recipes, 2x2 doesn't always equal 4, and certain dishes (soufflés, breads and cakes, for example) are just not conducive to serving large crowds unless you have the time to prepare several separate batches in small portions. So go with casseroles, soups, salads and other less-finicky dishes that can be doubled and tripled with lower risk of kitchen catastrophe.

Don't Be Afraid To Delegate

The most common reason most people don't delegate in the kitchen? They feel awkward doing so. But when you're the one in charge of the Big Holiday Dinner, offloading responsibilities shortens your to-do list and lets you focus on the tasks you alone can do. For guests, being asked to help implies that you trust their skills, appreciate their contributions and value their company.

Choose Recipes You Can Make The Day Before

This collection of <a href="http://www.livebetteramerica.com/Home/healthy-living/food/recipe-collections/make-ahead-holiday-sides-and-desserts?nicam5=PARTNERSHIPS&nichn5=AOL&niseg5=TDCORE_LBA&esrc=16549">desserts and sides</a> contains 7 holiday-themed recipes designed to be prepared a day ahead. Simply refrigerate after assembly, then bake the day of your fête (allowing a little extra cooking time if the dish is cold to start out with). You'll take a chunk of the work off your food-prep plate and have more time to celebrate.

Embrace The Slow-Cooker

Throw in the ingredients and go. Come back later to a house that smells like a holiday. What's not to love about your slow-cooker? And yet too many of us pull them out only for soups and stews, missing opportunities to make flavorful and warm-you-up-from-the-inside dishes without much fuss. From delicious roasted veggies to poached pears, steamed persimmon pudding or even mulled wine, your slow-cooker is your friend when it comes to big holiday gatherings.

Try A Partial Potluck

There's no shame in requesting a few additions to your menu from the guests you already know have great, signature dishes in their repertoires. If your cousin's favorite meatball recipe is the stuff of legends, why spend the time making your own version when she'll probably be thrilled to bring hers along? It'll give you more time to focus on your own famous recipes, and hopefully a little extra to spend with the family you rarely get to see.