Better Thanksgiving Dinner Prep: 6 Ways To Master The Art Of Kitchen Delegation During The Holidays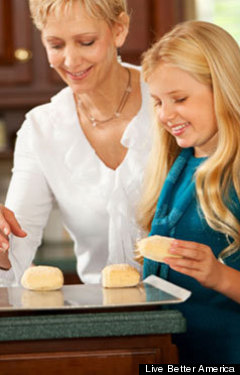 "If you want something done right, do it yourself."
We've all heard this adage and, if you're like most cooks, embraced it, however begrudgingly. But when you're the one in charge of the Big Holiday Dinner, the benefits of delegating can be significant — for all involved. For you, offloading responsibilities shortens your to-do list and lets you focus on the tasks you alone can do. For guests, being asked to help implies that you trust their skills, appreciate their contributions and value their company.
But delegating effectively takes know-how, says Mary Goetz, food editor for Betty Crocker Kitchens in Minneapolis (she's also a chef and cooking instructor). "Some people don't ask for help," she says, "because they mistakenly believe their guests are more interested in leisure than labor." Other cooks would rather hold back and wait to see if anyone offers to lend a hand. The most common reason most people don't delegate? They feel awkward doing so.
Goetz offers a helping handful of tips to help cooks overcome their reluctance (or incapacity) to delegate.
Loading Slideshow
Transform menial to meaningful.

Mincing garlic, chopping onions and mashing potatoes are crucial jobs. Give them the respect they deserve by assigning them to your most seasoned assistants — someone who knows, at least, that a mandoline is not a musical instrument.

If they can't stand the heat …

Not everyone is comfortable in the kitchen, but there are plenty of other jobs you can assign, such as setting the table, selecting the music, holding the baby or entertaining the younger, antsier guests.

Kick it to the kiddos.

"Age-appropriate jobs are a great way to get kids involved in meal prep," says Goetz. From washing green beans to grating cheese, enlisting their services increases the likelihood that younger diners will actually eat the foods they helped prepare.

Appoint a bartender.

Assign a go-to person for all things drinkable: filling water glasses, mixing drinks, uncorking wine bottles, distributing juice boxes and replenishing ice buckets. Providing a tip jar is optional!

Rubber gloves are "one size fits all."

When it's time to clean up, there's a task that fits almost everyone. Someone needs a breath of fresh air? Ask him to take out the garbage. Superb organizer looking directionless? Let her pack up the leftovers. Got a clean freak in the family? Hand her a pair of rubber gloves and gesture toward the pots and pans.

Make delegation a tradition.

In Goetz's family, all of the women get together the day before Thanksgiving to make pies and conversation. "I look forward to that time together," she says. "What began with delegation became a family tradition." As it could be the beginning of one for yours.
What delegation tricks work in your kitchen? Share your best advice for getting the whole family involved in holiday prep in the comments below!