Gluten-Free Thanksgiving: 7 Better Recipes For Health-Conscious And Gluten-Intolerant Guests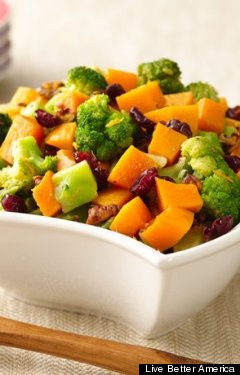 With bountiful plates overflowing with rolls, gravy, stuffing and, of course, pie, it's hard to think of a family gathering more fraught with anxiety for the gluten-free guest than Thanksgiving. As more people are diagnosed with gluten intolerance or celiac disease, or are avoiding gluten for health reasons, food-centric gatherings can become more challenging to plan and prepare.
But you'd be surprised how many Thanksgiving classics can be prepared gluten free: roasted turkey, cornbread stuffing, sweet potatoes, squash, cranberries and green bean casserole for starters. Whether you're a gluten-free guest looking to go easy on the chef, or a gracious host aiming for a delicious dining experience for the entire table, you'll give thanks for the tips below. No one will be the wiser.
Plan a Mindful Menu
Gluten is found in grains such as wheat, barley, rye and triticale, which is a hybrid of wheat and rye. Before planning your menu, do some research and ask your gluten-free guests about their likes and dislikes. (Not every guest is on board with gluten-free bread substitutes.) Armed with a little information and an open mind, you'll be well on your way to a successful fête.
Instead of viewing gluten intolerance as a limitation, think of holiday meals as an opportunity to educate yourself and your guests about how good gluten-free foods can be on their own. Dining needn't always imitate a flour-lover's feast!
These foods are safe for gluten-free diets:
Fruits and vegetables. Any unprocessed fruit or vegetable is gluten free. Potatoes — both white and sweet — are also gluten free.
Dairy. Milk and most cheeses are gluten free, though blue cheese and some processed cheeses can be made with wheat. Plain yogurt is likewise gluten free, as are many blended varieties; check the labels to be sure.
Fresh meats, fish, poultry and beans. Check labels on canned and frozen items to make sure they are gluten free.
Some grains. Gluten-free choices include: rice (white, wild and brown), millet, quinoa, corn (including hominy and cornmeal), amaranth, arrowroot, flax, sorghum, soy, tapioca, teff and buckwheat, as well as gluten-free flour varieties such as rice, soy, corn, potato or bean.
Certain grains such as oats can be contaminated with wheat during growing and processing. Many gluten-free folks thus avoid oats unless specifically labeled as gluten free.
Shop Selectively
Navigating the grocery-store aisles is daunting enough during the holidays, but you'll want to factor in extra time to peruse labels. Consult these shopping tips before heading out and consider inviting a gluten-free friend or family member to tag along as a tutor.
In general, avoid foods containing the following, unless they're labeled as safe. Pay extra attention to such items as beer, bread, crackers, gravy, salad dressing, condiments and sauces, snack foods, spice mixes and vegetables in sauce:
Wheat and wheat flour (wheat, durum wheat, semolina wheat, kamut, spelt wheat, emmer, einkorn, faro, triticale wheat, farina, graham, gluten, wheat germ, wheat bran, wheat starch)
Rye
Barley
Oats
Bulgur
Imported foods labeled "gluten free" (not held to U.S. standards)
Malt extract, barley malt or malt flavoring
Dextrin and maltodextrin (may contain wheat)
"Natural flavor" (may contain wheat)
Soy sauce or teriyaki sauce (may contain wheat)
Take Care When Cooking
Before readying the feast, follow these tips to make sure you are prepared to eliminate cross-contamination of prep tools and cutting boards. Even trace amounts of gluten can be catastrophic for someone with celiac disease. If you're considering a buffet, know that those with gluten sensitivities will be concerned about which foods contain gluten and their proximity to gluten-free items. If some of your spread does contain gluten, make place cards denoting which foods are gluten free. If you anticipate serving gluten-free guests on a regular basis, it might be worth it to purchase separate cookware or serving utensils for that purpose.
With this in mind, here are 7 gluten-free and Thanksgiving-appropriate recipes to get you started:
Loading Slideshow
Broccoli and Squash Medley

<a href="http://www.livebetteramerica.com/recipes/broccoli-and-squash-medley/ad855f5e-91b6-499e-b3a8-199d3ebedfba?nicam5=PARTNERSHIPS&nichn5=AOL&niseg5=TDCORE_LBA&esrc=16549">Get the Broccoli and Squash Medley recipe</a>

Amaretto Cheese-Filled Apricots

<a href="http://www.livebetteramerica.com/recipes/amaretto-cheese-filled-apricots/faff6348-66ca-49c8-8fe8-4fe89886444e?nicam5=PARTNERSHIPS&nichn5=AOL&niseg5=TDCORE_LBA&esrc=16549">Get the Amaretto Cheese-Filled Apricots recipe</a>

Healthified Confetti Quinoa Salad

<a href="http://www.livebetteramerica.com/recipes/healthified-confetti-quinoa-salad/388d2218-1825-4cb7-928f-d532ac280f99?nicam5=PARTNERSHIPS&nichn5=AOL&niseg5=TDCORE_LBA&esrc=16549">Get the Healthified Confetti Quinoa Salad recipe</a>

Honey-Peanut Butter Bars

<a href="http://www.livebetteramerica.com/recipes/honey-peanut-butter-bars/9f95ba54-2458-4d46-b665-1df0df921e6a?nicam5=PARTNERSHIPS&nichn5=AOL&niseg5=TDCORE_LBA&esrc=16549">Get the Honey-Peanut Butter Bars recipe</a>

Healthified Green Bean Casserole

<a href="http://www.livebetteramerica.com/recipes/healthified-green-bean-casserole/9f610ac3-3902-44ff-b050-c0384a782181?nicam5=PARTNERSHIPS&nichn5=AOL&niseg5=TDCORE_LBA&esrc=16549">Get the Healthified Green Bean Casserole recipe</a>

Creamy Confetti Succotash

<a href="http://www.livebetteramerica.com/recipes/creamy-confetti-succotash/3bef3599-7cac-4633-b607-fe968866104f?nicam5=PARTNERSHIPS&nichn5=AOL&niseg5=TDCORE_LBA&esrc=16549">Get the Creamy Confetti Succotash recipe</a>

Italian Chex Mix

<a href="http://www.livebetteramerica.com/recipes/italian-chex-mix/8d404075-f579-453f-9a56-81ebbf3c55e4?nicam5=PARTNERSHIPS&nichn5=AOL&niseg5=TDCORE_LBA&esrc=16549">Get the Italian Chex Mix recipe</a>