5 Healthier Twists On Macaroni And Cheese (RECIPES)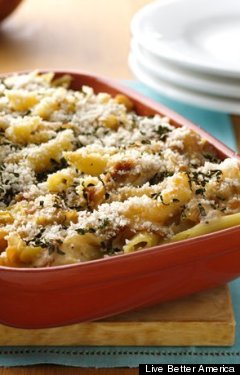 How is it that macaroni and cheese is both a staple of childhood and go-to comfort food for grown-ups? Few dishes are so straightforward: Its name is also its ingredient list. The incredibly satisfying texture alone is enough to send you swooning, and nothing fills you up more than a bowl of this classic meal.
As much as we love the dish, macaroni and cheese's traditional iterations tend to be pretty devoid of nutritional value and its flavor profile ranges no further than ho to hum. But those are problems easily solved: Just add more healthful and flavorful ingredients to your favorite starter recipe or be even more adventurous and redefine the dish altogether. Get out of your "comfort" zone with one of these new ways to enjoy that gooey goodness.
1. Modify the Macaroni
Switching to whole grain noodles adds fiber, B vitamins and other nutrients. And remember: Elbow macaroni is just one variety of pasta. Seek out a new shape (think penne, linguini or orzo) or a new grain base to up your mac and cheese's nutritional profile. Rather than sticking with semolina, try quinoa, spelt or rice – some of which are gluten free.
2. Change the Cheese
Sure, you can always substitute low-fat or no-fat cheese in order to keep fat content down. But be warned: It might not taste the same. Another approach is to use your favorite high-quality, full-fat cheese but cut the amount by a third. That way, you'll get to enjoy the rich, sophisticated flavor of, say, a vintage cheddar or a Double Gloucester while avoiding going overboard on cheese.
3. Give It Some Color
Macaroni and cheese will never be accused of being too colorful. Brighten up its visual appeal and nutritional wallop by mixing in cooked veggies such as carrots, broccoli florets or whole peas. Get your greens by adding in chopped, blanched or sautéed spinach, kale or chard. You can also create vegetable and herb combinations to provide some international pizzazz. Try chopped tomatoes and cilantro for a Mexican-style twist, zucchini and parsley for an Italian spin or haricot vertand roasted garlic for French flavor.
4. Stir in Some Protein
It's easy to add protein to your favorite mac and cheese dish. Chunks of tuna, grilled chicken or tofu blend nicely with the creamy cheesiness. Or, if you're pressed for time, just open a can of cannellini or Great Northern beans help boost your protein — and fiber — consumption.
5. Try a New Recipe
Sometimes, trying a new recipe is a great launching pad for your own creativity. Get inspired, then modify your mac and cheese as desired. Here are five of our favorites to get you started:
Loading Slideshow
Healthified Macaroni And Cheese

Prep Time: 20 Min | Total Time: 45 Min | Servings: 6 <a href="http://www.livebetteramerica.com/recipes/healthified-macaroni-and-cheese/17995f54-35f8-4ff9-9de3-df254905cfae?nicam5=PARTNERSHIPS&nichn5=AOL&niseg5=TDCORE_LBA&esrc=16549">Get the Healthified Macaroni And Cheese recipe</a>

Bacon And Caramelized Onion Mac 'N Cheese

Prep Time: 55 Min | Total Time: 1 Hr 10 min | Servings: 12 <a href="http://www.livebetteramerica.com/recipes/bacon-and-caramelized-onion-mac-n-cheese/ab297af0-6928-4121-b827-4318fcc55651?nicam5=PARTNERSHIPS&nichn5=AOL&niseg5=TDCORE_LBA&esrc=16549">Get the Bacon And Caramelized Onion Mac 'N Cheese recipe</a>

Pizza Casserole

Prep Time: 10 min | Total Time: 55 Min | Servings: 6 <a href="http://www.livebetteramerica.com/recipes/pizza-casserole/39230532-844b-4e58-a9ff-917393b85f01?nicam5=PARTNERSHIPS&nichn5=AOL&niseg5=TDCORE_LBA&esrc=16549">Get the Pizza Casserole recipe</a>

Chicken And Broccoli Mac 'N Cheese

Prep Time: 25 min | Total Time: 40 min | Servings: 6 <a href="http://www.livebetteramerica.com/recipes/chicken-and-broccoli-mac-n-cheese/72d3e720-5380-4534-867a-168cceca70dc?nicam5=PARTNERSHIPS&nichn5=AOL&niseg5=TDCORE_LBA&esrc=16549">Get the Chicken And Broccoli Mac 'N Cheese recipe</a>

Healthified Beef And Noodle Layered Casserole

Prep Time: 30 min | Total Time: 1 Hr 35 min | Servings: 6 <a href="http://www.livebetteramerica.com/recipes/healthified-beef-and-noodle-layered-casserole/c51ec8a4-9828-4818-bf5d-4af06c39ef86?nicam5=PARTNERSHIPS&nichn5=AOL&niseg5=TDCORE_LBA&esrc=16549">Get the Healthified Beef And Noodle Layered Casserole recipe</a>