How To Throw A Brunch Party That Will Energize (Not Sedate) Your Guests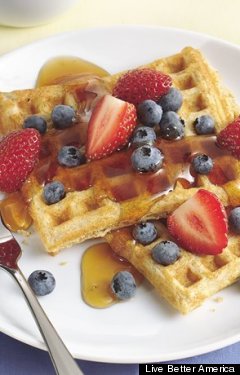 The beauty of brunch is that it can be as complicated or simple, as elegant or casual, as health-conscious or splurgy as you want. But what brunch doesn't have to be is the grease-laden, all-you-can-eat buffet style of yore that leaves you stuffed and ready for a nap. Imagine instead, a brunch that is fun and festive, and gets your day off to a delicious and satisfying start.
Here are four easy ways to achieve just that, along with 13 great recipes to get your creative juices flowing.
• Cue the tunes. You've got a little extra time: set the mood with music and groove out! Whether you like the blues or bluegrass, classical or country, reggae or rap, play some music to keep you energized as you cook.
• Sip something special. Make breakfast smoothies, Bloody Mary's, or fresh-squeezed orange or grapefruit juice for some special treats to sip or slurp while you cook, socialize and eat.
• Set the table. Most days we're eating breakfast on the run, so take a minute to set a table so you can relax and enjoy the fruits of your labors. Twigs, stones, flowers, even miniature toys or building blocks can make a table look charmingly brunch-ready. And bring out the cloth napkins, "good" dishes, and chip-free glassware. Think festive, not frumpy.
• Try out a new recipe. Since you're buying your ingredients in advance and you have a little extra time, brunch is a great meal to experiment with a new recipe. We've compiled 13 slimmed-down, flavored-up takes on everything from French toast to layered egg bakes to inspire you in the slideshow below.
Loading Slideshow
Fruit Topped Whole Grain Waffles

Nutty whole wheat flour, sweet oats and tangy buttermilk make waffles with lots of flavor in less than 30 minutes! Calories: 360 | Total fat: 11g | Saturated fat: 2 1/2g <a href="http://www.livebetteramerica.com/recipes/fruit-topped-whole-grain-waffles/061de16f-346f-4a52-b812-a508f345978c?nicam5=PARTNERSHIPS&nichn5=AOL&niseg5=TDCORE_LBA&esrc=16549">Get the Fruit Topped Whole Grain Waffles recipe</a>

Healthified Cheddar And Bacon Quiche

Who wants to spend a precious weekend morning in the kitchen? For this easy-does-it quiche, you can put away your rolling pin—just press the quick-fixing dough into the pie plate. Calories: 190 | Total fat: 9g | Saturated fat: 2g <a href="http://livebetteramerica.aol.com/2012/07/25/healthified-cheddar-and-b_n_1702550.html">Get the Healthified Cheddar And Bacon Quiche recipe</a>

Healthified Spinach And Cheese Quiche

When you're serving vegetarians, spinach quiche makes a luscious choice, but traditional recipes can be killjoys on the healthier-eating front. Our savvy substitutes include using an oil-based pastry rather than a butter-packed one. Calories: 200 | Total fat: 10g | Saturated fat: 2 1/2g <a href="http://livebetteramerica.aol.com/2012/07/25/healthified-spinach-and-c_n_1702586.html">Get the Healthified Spinach And Cheese Quiche recipe</a>

Healthified Banana-Chocolate Chip Muffins

What could be better than having chocolate for breakfast? Enjoy it knowing that this favorite ingredient is tucked into slimmed-down muffins. Bake a batch for brunch, then stash extras in the freezer for grab-and-go breakfasts all week. Calories: 210 | Total fat: 6g | Saturated fat: 1g <a href="http://livebetteramerica.aol.com/2012/07/25/healthified-banana-chocol_n_1702645.html">Get the Healthified Banana-Chocolate Chip Muffins recipe</a>

Healthified Honey-Lemon Fruit Parfaits

Some breakfast parfaits look healthier than they really are, but with zero grams of saturated fat, this towering treat can proudly stand tall as a truly better-for-you version. We also chocked it full of twice as much fruit, so one serving will give you 70 percent of your Daily Value for vitamin C. Calories: 130 | Total fat: 1g | Saturated fat: 0g <a href="http://livebetteramerica.aol.com/2012/07/25/healthified-honey-lemon-f_n_1702537.html">Get the Healthified Honey-Lemon Fruit Parfaits recipe</a>

Roasted Vegetable Biscuit Bake

Roasting vegetables in the oven boosts the flavor in this dish, bringing a rich caramelized sweetness without an excess of fat or calories. Calories: 260 | Total fat: 9g | Saturated fat: 3g <a href="http://www.livebetteramerica.com/recipes/roasted-vegetable-biscuit-bake/788570ff-df63-4ada-bd49-0069d631d4e0?nicam5=PARTNERSHIPS&nichn5=AOL&niseg5=TDCORE_LBA&esrc=16549">Get the Roasted Vegetable Biscuit Bake recipe</a>

Healthified Asparagus-Zucchini Egg Bake

Remember to let this reduced-fat showpiece stand 10 minutes before serving. That gives the cheese topper a little time to melt and makes the dish easier to slice. Calories: 80 | Total fat: 2g | Saturated fat: 1g <a href="http://livebetteramerica.aol.com/2012/07/25/healthified-asparagus-zuc_n_1702408.html">Get the Healthified Asparagus-Zucchini Egg Bake recipe</a>

Healthified Raspberry French Toast Bake

Inside this easily baked treat nestles an irresistible surprise—an oozy and decadent cream cheese filling. Consider serving any leftover raspberry syrup over low-fat frozen yogurt for a smart, sweet-tart dessert. Calories: 220 | Total fat: 4g | Saturated fat: 2g <a href="http://livebetteramerica.aol.com/2012/07/25/healthified-raspberry-fre_n_1702499.html">Get the Healthified Raspberry French Toast Bake recipe</a>

Healthified Italian Sausage Egg Bake

Everyone needs a crowd-pleasing egg casserole that can be assembled the night before a celebration. Whatever the next day brings, you'll have plenty of time to enjoy the festivities. You'll also enjoy knowing that you're serving up 42 percent less fat and 55 percent less saturated fat when you choose this recipe over the original version. Calories: 280 | Total fat: 12g | Saturated fat: 4g <a href="http://livebetteramerica.aol.com/2012/07/25/healthified-italian-sausa_n_1702463.html">Get the Healthified Italian Sausage Egg Bake recipe</a>

Key Lime-Fruit Salad

Dessert-flavored yogurt adds creamy lusciousness without adding an abundance of fat or saturated fat. Change it up with whatever fruits are looking their freshest best in the market and with other flavors of yogurt you love. Calories: 120 | Total fat: 1 1/2g | Saturated fat: 1g <a href="http://www.livebetteramerica.com/recipes/key-lime-fruit-salad/be812bd4-85f3-4dd5-81d8-106d4d5be731?nicam5=PARTNERSHIPS&nichn5=AOL&niseg5=TDCORE_LBA&esrc=16549">Get the Key Lime-Fruit Salad recipe</a>

Healthified Monkey Bread

Our dietitians swung this notorious diet-buster into the better-for-you camp by switching in fat-free caramel topping for the traditional butter-sugar mixture. Calories: 250 | Total fat: 8g | Saturated fat: 3 1/2g <a href="http://livebetteramerica.aol.com/2012/07/25/healthified-monkey-bread_n_1702631.html">Get the Healthified Monkey Bread recipe</a>

Yogurt-Topped Granola Pancakes

A fiber-packed mix—plus an extra touch of texture from granola—makes these four-ingredient hotcakes hearty and healthful. Hint: To keep cooked pancakes hot while making the rest of the batch, place finished pancakes in a single layer on a baking sheet. Calories: 290 | Total fat: 4g | Saturated fat: 1/2g <a href="http://www.livebetteramerica.com/recipes/yogurt-topped-granola-pancakes/a57880d3-69a4-4e86-8594-a482f283ab07?nicam5=PARTNERSHIPS&nichn5=AOL&niseg5=TDCORE_LBA&esrc=16549">Get the Yogurt-Topped Granola Pancakes recipe</a>

Healthified Streusel Coffee Cake

A deliciously nutty (but not diet-buster naughty!) crumb mixture layers inside and on top of this classic coffee cake. Put plenty out on your brunch table for everyone, and stash any extra in the freezer—it will keep there for up to a month. Calories: 240 | Total fat: 9g | Saturated fat: 1g <a href="http://livebetteramerica.aol.com/2012/07/25/healthified-streusel-coff_n_1702527.html">Get the Healthified Streusel Coffee Cake recipe</a>