Weekend Poll: Would You Try This Recipe?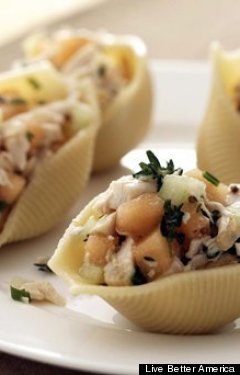 Itching to try out some new recipes? No better time than the present! This weekend, we're eyeing this Healthified Chicken And Double Melon Stuffed Shells recipe. It's got cantaloupe, honeydew melon and chicken breast, stuffed into macaroni shells along with fat-free yogurt, mustard, chives, lemon juice and thyme. Ready in under 30 minutes!
Get the full set of cooking directions here, and tell us: would you try it? Modify it? Vote below, and then comment to let us know how your version turned out!
Loading Slideshow
Couscous, Corn And Lima Bean Sauté

Sautéed corn and lima beans top off quick-cooking whole wheat couscous, a whole grain that has already been cooked and dried. All you do is add water and veggies, heat to boiling, let stand and fluff. <a href="http://www.livebetteramerica.com/recipes/couscous-corn-and-lima-bean-saute/50193a0d-dbbc-48ec-85e4-6e44c4bd1661?nicam5=PARTNERSHIPS&nichn5=AOL&niseg5=TDCORE_LBA&esrc=16549" target="_hplink">Get the Couscous, Corn And Lima Bean Sauté recipe</a> Prep Time: 20 min Total Time: 25 min Servings: 6

Healthified Skillet Lasagna

Lasagna in a skillet? Why not? You can go from cupboard to table in 30 minutes with this quick-fix version of an all-time favorite. Tip: Measuring chopped garlic from a jar shortcuts prep time. Look for it in the produce section. <a href="http://www.livebetteramerica.com/recipes/healthified-skillet-lasagna/10e6f582-6dbe-4763-bb68-4896d412675b?nicam5=PARTNERSHIPS&nichn5=AOL&niseg5=TDCORE_LBA&esrc=16549" target="_hplink">Get the Healthified Skillet Lasagna recipe</a> Prep Time: 30 min Total Time: 30 min Servings: 6

Green Pepper-And-Tomato-Topped Snapper

It's easy to vary this recipe depending on what you have on hand. You can use any color of bell pepper, any variety of tomato, and any choice of fish listed in the recipe. <a href="http://www.livebetteramerica.com/recipes/green-pepper--and-tomato-topped-snapper/81e22f12-a667-47a2-b356-b1bb3d9850dc?nicam5=PARTNERSHIPS&nichn5=AOL&niseg5=TDCORE_LBA&esrc=16549" target="_hplink">Get the Green Pepper-And-Tomato-Topped Snapper recipe</a> Prep Time: 30 min Total Time: 30 min Servings: 4

Healthified Indian Spiced Beef Patties With Cucumber Sauce

Wander outside of the bun and serve these internationally-inspired burgers with flat bread, naan, or pita bread. <a href="http://livebetteramerica.aol.com/2012/07/25/healthified-indian-spiced_n_1702529.html" target="_hplink">Get the Healthified Indian Spiced Beef Patties With Cucumber Sauce recipe</a> Prep Time: 15 min Total Time: 30 min Servings: 2

Cornmeal Chicken With Fresh Peach Salsa

Peach salsa adds a tangy flavor to a no-mess chicken dish that's perfect for dinner. Tip: 2 cups chopped frozen (thawed) sliced peaches can be substituted for the fresh peaches. <a href="http://www.livebetteramerica.com/recipes/cornmeal-chicken-with-fresh-peach-salsa/fc8b9208-3fd2-4cf4-929c-28cc05951b2b?nicam5=PARTNERSHIPS&nichn5=AOL&niseg5=TDCORE_LBA&esrc=16549" target="_hplink">Get the Cornmeal Chicken With Fresh Peach Salsa recipe</a> Prep Time: 10 min Total Time: 30 min Servings: 4

Healthified Fish With Tomato And Cannellini Relish

Take a trip to the Mediterranean in just 30 minutes by pairing fish with a salad of cannellini beans, rosemary, and tomatoes. Serve with lemon wedges, and garnish with fresh rosemary sprigs if desired. <a href="http://livebetteramerica.aol.com/2012/07/25/healthified-fish-with-tom_n_1702594.html" target="_hplink">Get the Healthified Fish With Tomato And Cannellini Relish recipe</a> Prep Time: 15 min Total Time: 30 min Servings: 4

Healthified Salmon With Marjoram-Dijon Tomatoes

Create bistro-style salmon flavored with a warm tomato topper for a snappy weeknight meal. If desired, garnish with oregano sprigs. <a href="http://livebetteramerica.aol.com/2012/07/25/healthified-salmon-with-m_n_1702684.html" target="_hplink">Get the Healthified Salmon With Marjoram-Dijon Tomatoes recipe</a> Prep Time: 15 min Total Time: 30 min Servings: 4

Halibut Packets Vera Cruz

Enjoy your dinner with grilled halibut and veggies packets that are perfect if you love Mexican cuisine. Vary the spiciness of this dish by choosing a green salsa with a heat level to your liking. <a href="http://www.livebetteramerica.com/recipes/halibut-packets-vera-cruz/5110f77e-7557-48d2-840c-6e214c3b7c3f?nicam5=PARTNERSHIPS&nichn5=AOL&niseg5=TDCORE_LBA&esrc=16549" target="_hplink">Get the Halibut Packets Vera Cruz recipe</a> Prep Time: 10 min Total Time: 30 min Servings: 4

Greek Turkey Burgers With Yogurt Sauce

Traditional dill-yogurt sauce makes a tasty topper for turkey burgers that also stay moist with the addition of yogurt. The flavorful yogurt sauce also tastes great on pita bread wedges or as a dip for veggies. <a href="http://www.livebetteramerica.com/recipes/greek-turkey-burgers-with-yogurt-sauce/3b147ec9-48b7-4bb1-a932-8b63fc8aa54d?nicam5=PARTNERSHIPS&nichn5=AOL&niseg5=TDCORE_LBA&esrc=16549" target="_hplink">Get the Greek Turkey Burgers With Yogurt Sauce recipe</a> Prep Time: 20 min Total Time: 20 min Servings: 4

Healthified Spicy Cashew Chicken

This restaurant-style dish has 33 percent less total fat and 71 percent less sodium than the original recipe. And, it's ready in the time it would take you to get a table on a crowded Saturday night! <a href="http://livebetteramerica.aol.com/2012/07/25/healthified-spicy-cashew-_n_1702694.html" target="_hplink">Get the Healthified Spicy Cashew Chicken recipe</a> Prep Time: 15 min Total Time: 30 min Servings: 4

Healthified Chicken Linguine Alfredo

Alfredo is a classically high-fat and high-calorie dish. This lovely linguine, though, has much less fat and calories than the traditional version -- a great rush-hour dinner! <a href="http://livebetteramerica.aol.com/2012/07/25/healthified-chicken-lingu_n_1702668.html" target="_hplink">Get the Healthified Chicken Linguine Alfredo recipe</a> Prep Time: 30 min Total Time: 30 min Servings: 6

Apricot-Glazed Chicken Breasts with Almond Couscous

Peach preserves, garlic powder and a little fire from cayenne pepper make this moist chicken taste awesome. Enjoy! <a href="http://www.livebetteramerica.com/recipes/apricot-glazed-chicken-breasts-with-almond-couscous/5c4a6e92-218a-40c9-965b-b03232913d01?nicam5=PARTNERSHIPS&nichn5=AOL&niseg5=TDCORE_LBA&esrc=16549" target="_hplink">Get the Apricot-Glazed Chicken Breasts With Almond Couscous recipe</a> Prep Time: 25 min Total Time: 25 min Servings: 4

Healthified Italian Bulgur Meatballs With Spaghetti Squash

After cooking the squash for this dish, use a fork to gently rake the stringy pulp from the shell, separating it into strands that resemble spaghetti. Sprinkle with basil, cilantro, or green onion. <a href="http://livebetteramerica.aol.com/2012/07/25/healthified-italian-bulgu_n_1702543.html" target="_hplink">Get the Healthified Italian Bulgur Meatballs With Spaghetti Squash recipe</a> Prep Time: 15 min Total Time: 25 min Servings: 4