Farmers' Market Shopping Tips: What To Buy In Your Area This Season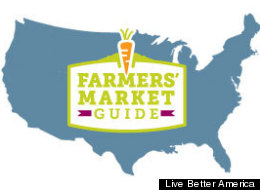 This season, make a date to visit one — or several — of the country's most vibrant farmers' markets. The farm-fresh produce, artisanal specialties and community pride bursting from these local gems make them uniquely road-trip worthy.
Don't know where to start? Use our regional market-shopping guide to discover what's ripe for picking in your neck of the woods and around the country. Then, plan your trip and get creative with your fresh produce finds.
From Idaho potatoes to Wisconsin cheeses to New York apples, this regional shopping guide will help you make the most of your visit.
Loading Slideshow
Pacific Northwest

This fertile region, encompassing the states of Washington, Oregon and Idaho, is vast and varied. In coastal areas the climate is rainy and mild for most of the year; west of the Cascade Mountains, however, the growing season is short, dry and windy. All the same, plenty of produce thrives here. <b>Regional specialties:</b> Fish and shellfish; hazelnuts from Oregon; and Idaho potatoes, which will hit their peak in September and October.

California

From surfers to wine aficionados, Californians are as diverse as their state. And this single state represents a massive growing region with distinctly different climates. In the southern and central parts, the growing season lasts all year long. Northern California, however, has more in common with the Pacific Northwest. Frosts are rare here, and every part of the state produces an abundance of food. <b>Regional specialties:</b> California is also known, of course, for its citrus fruits, and for the world-class wineries in Napa Valley and Sonoma County.

Southwest

Much of this region, which includes Nevada, New Mexico, Arizona, Texas, Utah, and Colorado, is defined by hot, dry desert conditions. Although growing is done year-round, there's a greater abundance of produce harvested in the spring and early summer months than in the hottest part of the year. <b>Regional specialties:</b> No visit to this region is complete without indulging in Tex-Mex fare, including tamales, fresh chorizo, and chiles prepared in every imaginable way.

Prairie

The sprawling stretch of Montana, Wyoming, North and South Dakota, Oklahoma, Nebraska, Kansas and Iowa make up this varied region. The climate is diverse, featuring high elevation areas with cold winters and short summers, and lower-lying ones with more moderate temperatures and longer growing seasons. <b>Regional specialties:</b> The prairie states are known for their beef and pork production, and some of the country's finest meats come from here. Grains -- wheat, soybeans and corn in particular -- are mainstays, too.

Great Lakes

The states of Wisconsin, Illinois, Michigan, Indiana, Minnesota and Ohio comprise a wide climate range. One of the coldest cities in North America, in fact, is International Falls, Minnesota. But the southern part of the region is considerably milder. The lakes add a temperate, humid influence on much of this part of the country, bringing snowy winters and warm, wet summers. <b>Regional specialties:</b> This is dairy country, and no visit to Wisconsin would be complete without a good cheese sampler. Another specialty item to look for in the lake states is wild rice, which is traditionally harvested by hand from canoes.

New England

Maine, Vermont, New Hampshire, Rhode Island, Massachusetts and Connecticut: home of baseball fans and seafood lovers. This part of the country enjoys four distinct seasons, although summertime is hotter along the coast than inland and at higher elevation. The summer harvest is typically bountiful, except in the coldest areas where the last frost can arrive as late as early June. <b>Regional specialties:</b> Fish and seafood are major New England industries. Don't leave the coast of Maine without enjoying a lobster roll, or Boston without a bowl of chowder.

Mid-Atlantic

With the Atlantic Ocean to the east and mountains to the west, the states of New York, New Jersey, Pennsylvania, Delaware, Maryland and West Virginia enjoy a fairly moderate climate with hot, humid summers, especially along the coast. The southernmost states have exceptionally long growing seasons -- good news for locavores! <b>Regional specialties:</b> Maryland blue crabs, Pennsylvania Dutch shoofly pie and, come September, one of New York's most important contributions to the culinary landscape: apples.

Southeast

The eastern portion of the southern United States includes the states of Virginia, Kentucky, Tennessee, Alabama, Georgia, North and South Carolina, Missouri, Mississippi, Louisiana, Arkansas and Florida. The upper part of the region is defined by four distinct, if moderate, seasons, while the lower South enjoys long, hot summers and mild to barely perceptible winters. <b>Regional specialties:</b> Southern delicacies could (and have) filled many books, from Louisiana gulf shrimp to Kentucky bourbon, and Virginia ham to low-country South Carolina boiled peanuts.